Curcio Dermatology recommends the following skincare regimen to Nashville residents. Special thanks to ALASTIN skincare for sharing this AM/PM skin care regimen guide.  Taking care of your skin at home is important for overall skin health and anti-aging. Using these products daily is cost-effective in the long run.  Additionally, a good daily sunscreen, moisturizing, and a good cleanser all lead to better skin health and make your skin feel great.
For a simple and reliable skincare regimen, Curcio Dermatology recommends following the steps in the graphics below: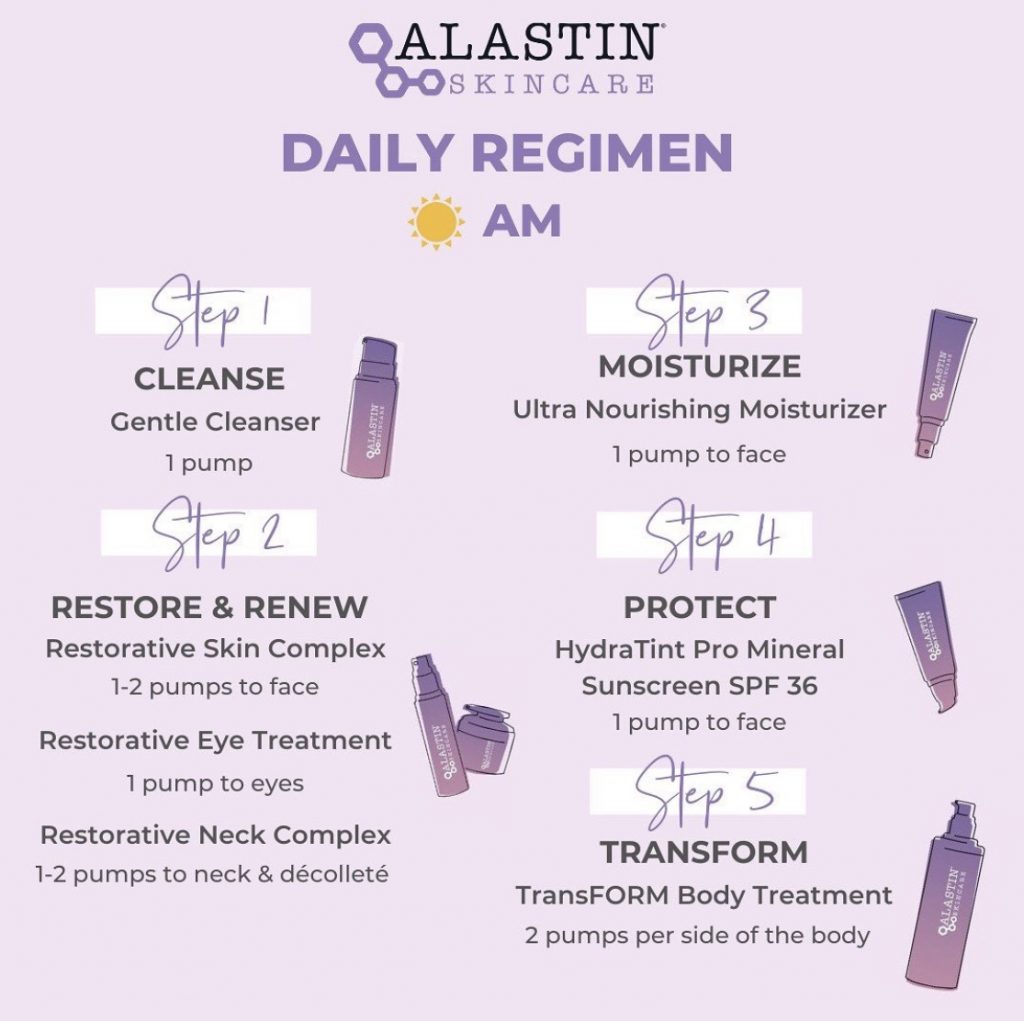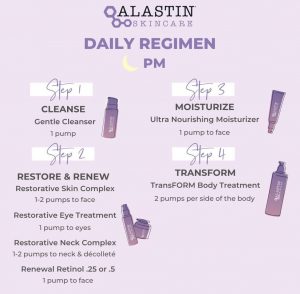 For both your morning and evening routines, you want to make sure you are following these important steps:
Start with a gentle cleanser to cleanse your skin.
Use restorative complexes on your face, eyes and neck to renew your skin.
Moisturize your skin using the Ultra Nourishing Moisturizer.
Use about 2 pumps of the TransFORM body treatment.
In the morning, make sure you are additionally protecting your skin with a good sunscreen. We recommend following up your moisturizer with the HydraTint Pro Mineral Sunscreen SPF 36.
For all these steps, it is also important that you buy products that are medical grade and recommended by board certified dermatologists that you trust.  For example, an over the counter product may make the same claims as a professional grade product, but usually contains a fraction of the ingredients that make the most impact.
When your skin's ability to recycle and repair collagen and elastin begins to slow, ALASTIN Skincare® offers an innovative collection of specially formulated and clinically proven products to help restart the process. Meticulous clinical work and ingredient evaluation led to the development of TriHex Technology®, a combination of selected peptides and active botanicals that support the skin's ability to clear out damage caused by aging and the environment and replenish with new healthy collagen and elastin.
If you have questions about the best products and skincare regimen for your skin, feel free to ask us a question or click here to schedule an appointment with a dermatologist or aesthetician. We look forward to hearing from you and hope to see you at our dermatology clinic in Nashville, TN soon.