Aesthetic Skin Care Treatments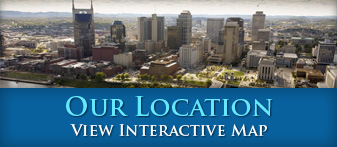 We offer a variety of aesthetic skin care treatments that are administered by our
licensed Aestheticians
.
CHEMICAL PEELS
During chemical peels, various acid solutions are applied to the skin to break the connections between skin cells. Peels can be superficial to exfoliate the upper most layer of skin or deeper to improve pigmentation and skin texture. Peels are great first line treatments for many conditions and great maintenance in between other treatments. They can be performed on their own or in conjunction with microdermabrasion or a facial. Depending on the type of peel, recovery time can range from minimal with no real "peeling" to a few days to a week of mild redness and exfoliation. Patients generally see improved skin tone and texture with each treatment.
One week prior to all peels, discontinue use of any retinoids, hydroquinone, and benzoyl peroxide products. Patients with hyperpigmentation disorders may be pretreated with a 4% hydroquinone 2-4 weeks prior to the peel to reduce epidermal melanin.
Contraindications to peeling include pregnancy, breast feeding, active cold sores, allergies to aspirin, and isotretinoin therapy within 6-12 months of the peeling procedure.
DR. CURCIO CURRENTLY OFFERS THE FOLLOWING CHEMICAL PEELS:
SUPERFICAL DEPTH CHEMICAL PEELS
Superficial depth medical grade peels can treat a variety of medical and cosmetic indications including acne, melasma, post-inflamatory hyperpigmentation, freckles, sun spots (solar lentigos), pre-cancers (actinic keratoses), photo aging, fine lines and wrinkles.
Salicylic Acid (SA) Peel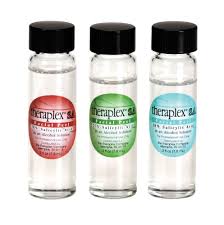 Salicylic Acid is a beta hydroxy acid peel that is a highly effective superficial peeling agent, oil reducer, and pore cleanser. Great for acne-affected skin, sensitive skin, and rosacea as it provides anti-inflammatory exfoliation benefits and evens out skin tone and texture. When treating hyperpigmentation, SA can be used alone or in combination with TCA. Available in concentrations of 20% or 30% for face, chest and back. Appropriate for all skin types.
Trichloroacetic Acid (TCA) Peel
Trichloroacetic Acid stimulates collagen production and can smooth surface texture. TCA peels at 10-30% will produce superficial exfoliation. It is ideal for the correction of wrinkles, acne scarring, and pigment problems. TCA provides skin with even tone and texture.
Jessner's Solution
Jessner's solution is a combination of salicylic acid, lactic acid, and resorcinol in an ethanol base that is used to improve mild to moderate acne, smooth out fine surface wrinkles, remove superficial blemishes and pre-cancers, and correct skin pigment problems and photodamage. Jessner's solution can be applied to the face, neck, chest, and hands. Appropriate for all skin types.
The Red Carpet Peel
The Red Carpet peel is a superficial peel that comes to you directly from Los Angeles! The peel includes a combination of ingredients to treat mild to moderate acne, smooth out fine lines and surface wrinkles, improve superficial scarring and correct sun-spots and pigment irregularities before your special event. Appropriate for all skin types.
NEO•PEEL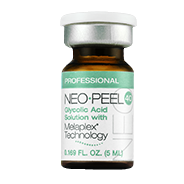 NEO•PEEL is an in-office superficial chemical peel by NEOCUTIS that combines glycolic acid with skin brightening agents to help minimize the appearance of skin aging and help promote renewed smoothness and radiance. A series of 3 to 6 peels approximately every 2 weeks is recommended.
NEO•PEEL helps minimize the appearance of skin aging, including:*
Uneven skin tone and texture
Skin pigmentation
Roughness and surface irregularities
Fine lines and wrinkles
*Individual results may vary.
NEO•PEEL is suitable for individuals undergoing a first-time chemical peel or for individuals looking for a gentle superficial peel. There is minimal downtime. Some redness and other discomfort may occur immediately following the peel. Minimal flaking and/or peeling may occur for several days after receiving NEO•PEEL.
SkinCeuticals Micropeel®


The Micropeel® is a customized treatment that consists of a two-step procedure combining dermaplaning, which utilizes a special blade to remove dead skin cells and vellus hairs, with a chemical peel solution. Micropeels® are ideal for fine lines, wrinkles, hyperpigmentation, photoaging and skin imperfections (exfoliate and decongest pores). Micropeels® are suitable for all skin types.
SkinMedica® Illuminize Peel®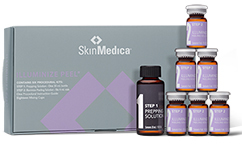 This non-invasive very superficial chemical peel utilizes a novel approach to chemical peeling with a newer generation of alpha-hydroxy acids (mandelic acid and malic acid) in combination with phytic acid and commonly used peeling agents (salicylic acid and resorcinol) to maximize skin rejuvenating effects with low irritation. Radiant looking skin after one peel.
Enhances skin glow and radiance
Helps restores a more youthful appearance
Improves clarity, color and skin texture
Patients achieve enhancement of skin appearance with minimal downtime and discomfort
Appropriate for first-time chemical peel patients or patients looking for a gentle, very superficial peel
May be performed on Fitzpatrick Skin Types I – VI
Little or no visible peeling
SkinMedica® Vitalize Peel®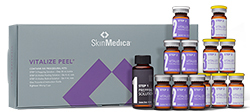 The Vitalize Peel® is the most popular SkinMedica® peel. It combines resorcinol, lactic, salicylic, and retinoic acid to offer dramatic improvement in texture and tone. The skin appears healthier and more youthful with minimal downtime. Noticeable results after just one peel. Compelling results after a series of three to six peels.
For mild to moderate skin conditions, such as acne, sun damage, fine lines, wrinkles, roughness, pigmentary changes, and melasma
Can be customized for the treatment of each specific condition
Achieve visible improvement after one treatment with optimal results after a series of treatments.
May be performed on Fitzpatrick Skin Types I – VI
Peeling typically occurs 48 hours after peel is applied and lasts 2-3 days
SkinMedica® Rejuvenize Peel®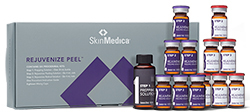 The Rejuvenize Peel® is an advanced peeling solution that contains Salicylic Acid, Lactic Acid, Resorcinol, Panthenol, and Isoceteth-20 and provides controlled exfoliation of the uppermost damaged layers of the skin to reveal fresher and healthier skin. This peeling solution combined with a Retinol Solution can substantially improve the appearance of the skin. Noticeable results after just one peel. Compelling results after a series of three to six peels.
For moderate to severe skin conditions, such as acne, acne scarring, sun damage, fine lines, wrinkles, roughness, pigmentary changes, and melasma
Recommended for Fitzpatrick Skin Types I – IV
Can be used on Fitzpatrick Skin Types V – VI after the patient has established tolerability to the Vitalize Peel, or with physician consent
Peeling typically occurs 48 hours after peel is applied and lasts 2-3 days
VI Peel™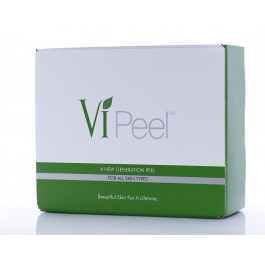 The VI Peel™ combines the strongest and most effective acids suitable for all skin types. It is a blended peel formulated with Trichloroacetic acid (TCA), Salicylic acid, Retinoic acid, Phenol, and Vitamin C. This peel is effective for treating hyperpigmentation, aging skin, and acne.
DERMAPLANING
Dermaplaning is an effective form of manual exfoliation performed primarily on the face. A special dermaplaning blade is used to remove the outermost layer of dead skin cells and vellus hairs from the skin surface, leaving the skin smooth and supple.
DERMASWEEP®
DermaSweep® is particle-free microdermabrasion that uses a unique bristle and suction technology that aids in overall facial rejuvenation by stimulating collagen production and drastically improving textural irregularities. After the initial dry exfoliation process is performed, the second step involves an individualized infusion application. These serums can be tailored for every skin type, optimizing skin health. The various infusions are formulated to treat acne, aging skin, dry skin, hyperpigmentation, photo damage and other problems. Treatments can be performed on all parts of the body. There is little to no down time and results are immediate, leaving patients with noticeably smoother skin that appears healthier, more youthful, and glowing. Optimum results are achieved with a series of four to six treatments spaced closely together, and then a treatment every two to three months for maintenance.
FACIALS
Acne Facial
Pore cleansing and exfoliation using steam for acne prone skin. May be performed with extractions.
Back Facial
Pore cleansing and exfoliation using steam for acne prone skin. May be performed with extractions.
Classic Facial
Customized facial to cleanse and soften the skin, restore clarity and radiance to the skin.
Mini Facia
Similar to the Classic Facial but shorter in duration (no Masque treatment) – perfect for the busy professional!
Mens Facial
Skin is cleansed, toned and conditioned as irritations from sun exposure or shaving are soothed.
EXTRACTIONS
Face, back, or both.
WAXING
Face: Brow, Lip, Chin, Full Face, Partial Face
Extremities: Full Arms, Half Arms, Full Legs, Half Legs
Body: Bikini, Brazilian, Underarms, Back, Chest, Abdomen
MAKE-UP APPLICATION
Learn how to apply make-up or have yours done for a special occasion.
LASH AND BROW TINTING
Temporarily darken your eyelashes or eyebrows. Recommended every 4 weeks to maintain color.
Make an appointment with Dr. Curcio to determine what treatment is best for you.