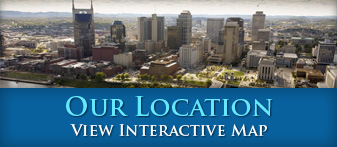 As we age, sun exposure, genetic predisposition, and conditions such rosacea can lead to redness, flushing, telangiectasias, blood vessels, and poikiloderma on the face, neck, and/or body. In addition, some people are born with vascular birthmarks, including hemangiomas and port wine stains, and others develop vascular lesions over time, including noticeable reticular veins, spider veins, cherry angiomas or even bruises.
1st Excel V™ in Middle Tennessee
Curcio Dermatology is proud to be the first practice in Middle Tennessee to offer patients the Excel V™. Lasers such as the Excel V™ (both the 532nm and the 1064 nm) are among the most effective vascular lasers on the market to treat a variety of vascular conditions. The light energy applied to the skin is absorbed by blood vessels, red scars, port wine stains, hemangiomas, and other vascular lesions. Even warts can be effectively treated with vascular lasers. Multiple treatments are required for optimal results.
Laser Genesis™ is a specialized vascular laser that offers the ability to treat redness while treating acne scarring, surgical scars, and offering skin revitalization. Treatment is painless and there is virtually no down time. Multiple treatments are required for optimal results.
Here is a list of many of the conditions that these lasers can treat:
Bruising
Cherry Angioma
Facial Redness
Facial Reticular Veins
Facial Spider Veins
Facial Telangiectasias
Leg & Body Reticular Veins
Lentigines (Sun Spots)
Poikiloderma
Red Stretch Marks
Rosacea
Spider Angioma
Warts
Venous Lake
Vascular Birth Marks

Hemangiomas
Port Wine Stains
Dr. Curcio specializes in Cosmetic and Laser Surgery and has extensive experience in laser treatment of vascular lesions. She can select the laser treatment regimen to help you attain the best possible cosmetic result.
Make an appointment with Dr. Curcio to determine what laser treatment is best for you.
Face and Body Veins Before and After Photos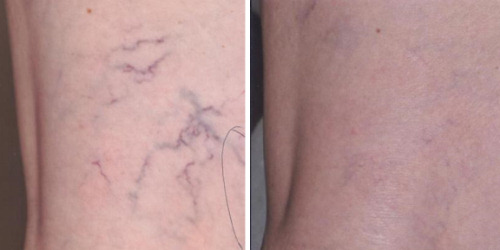 Leg Veins
Photos Courtesy of David Vasily, MD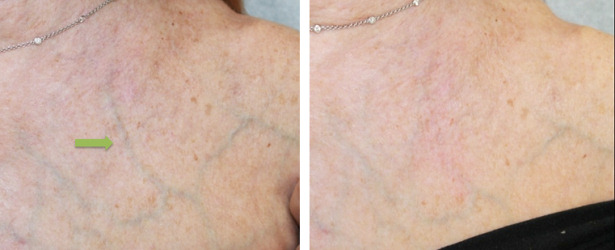 Chest Veins
Photos Courtesy of Jeremy B. Green, MD

Periorbital Veins
Photos Courtesy of Mary Lupo, MD

Forehead Veins
Photos Courtesy of Mary Lupo, MD
Other Conditions Before and After Photos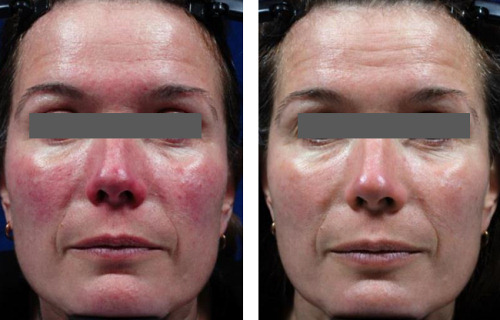 Rosacea
Photos Courtesy of Neil Sadick, MD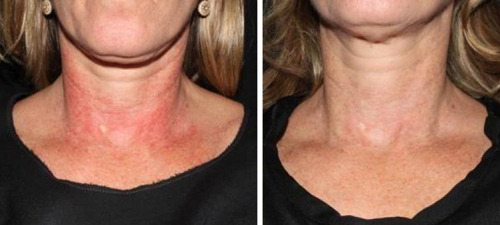 Poikiloderma
Photos Courtesy of Joely Kaufman, MD

Spider Angioma
Photos Courtesy of Cesar Arroyo, MD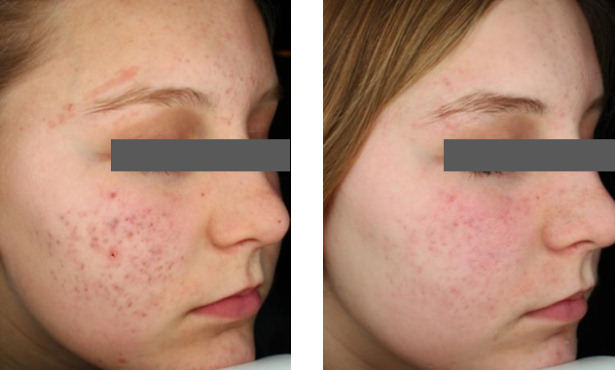 Acne Scars Treated with Laser Genesis
Photos Courtesy of David Vasily, MD

Warts
Photos courtesy of Dr. Ty Han, et al.